All you need to Know about finding off-campus student accommodation in the UK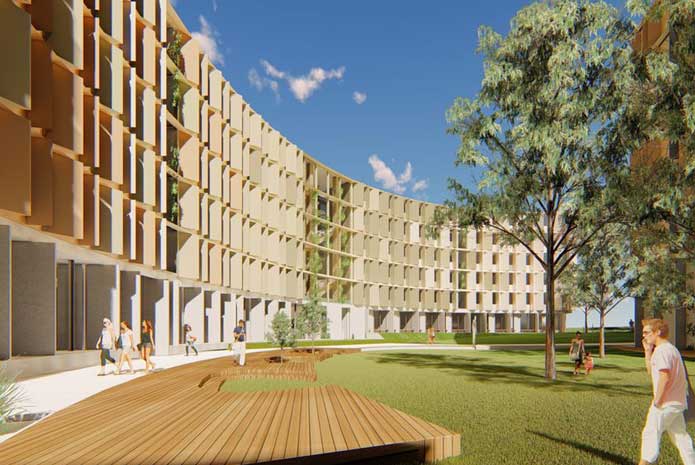 Studying in the UK post-Covid-19 has changed a whole lot of experience. Every year the UK welcomes around 800000 international students, but after Covid-19 around a million students will enroll to study in the UK. Therefore, the United Kingdom has got excellent opportunities to build an international network for overseas students. However, the other side of coins throws some major drawbacks. The major issue is with finding an appropriate off-campus student accommodation in the UK. Every year the student council of the UK government receives hundreds of emails stating help to find a suitable student accommodation in the UK. If you are looking for a study abroad consultant in Ahmedabad who can help you solve all your Study Abroad queries, then your one-stop shop is visiting the Flamingo Educare office.
Things to keep in mind while searching for Off-campus student accommodation in the UK:
If you wish to study in the UK, one major thing to keep in mind is to find a suitable place to live as a student in the UK. To opt for off-campus student accommodation in the UK is a big decision and it comes with a lot of responsibility and some perks. Even though off-campus student accommodation gives you more privacy, is less expensive, gives you the freedom to set your own house rules, and has larger living spaces, not all off-campus accommodation proves to be an ideal option.
Here are a few tips which you can consider while searching for off-campus student accommodation:
Fix your Budget first
Pick your roommates wisely
Keep your options wide and open
Start your search for accommodation options immediately after you get admission
Consider commutation options
Look for your safety and security
Check reviews with current tenants
Check Water supply and Furnishing
Look for better amenities
Types of Student Accommodation in the UK:
If you are planning to study in the UK, there are various types of options for student accommodation in the UK which you can look for.  Keeping budget and requirements in mind will help you choose suitable accommodation.
1.Halls of Residence: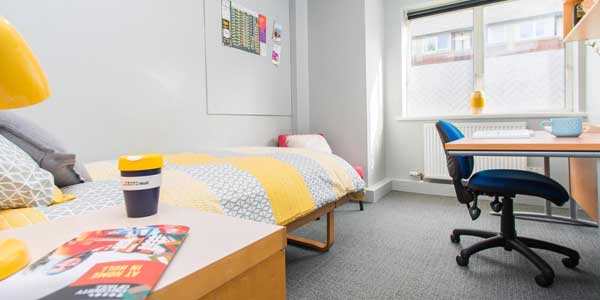 Image Source – https://www.hull.ac.uk/
While living in the UK, University campuses are a great way to meet and socialize with other students and build connections. Private student housing in the UK is quite expensive, while staying in University halls of residence you can get the benefit of supportive infrastructure, less expensive, and you get to experience the sense of community spirit. Universities have a great range of self-catered halls or catered halls whichever you choose from. Students are given a parking facility for those who wish to bring a car on campus. Rooms in student halls are a popular choice for international students. Halls of residence are located on campus and also include meals in the in-house canteen. The prime groups of students living in the halls of residence are from the first year and second year.
2.University-managed houses and rooms:
Image Source – https://azbigmedia.com/
University-managed rooms in the UK are the most common off-campus accommodation chosen by an overseas student while staying in the UK. University-managed rooms are referred to as 'Uni-rooms' which are the simple dome-like structure that creates a suitable living condition for students. Uni-rooms are managed by universities and colleges which look similar to houses/flats with the standardized look and basic amenities. Students can apply for accommodation in University-managed rooms via their institutions' accommodation offices. Many universities offer rooms in houses for undergraduate and postgraduate
3.Studio rooms in the UK: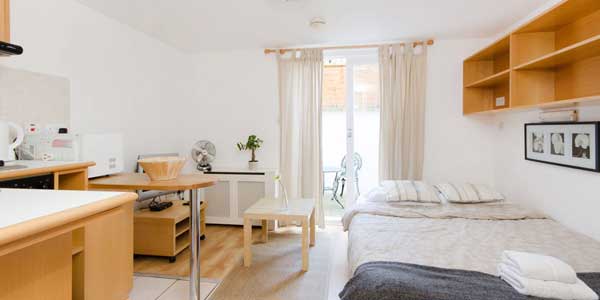 Image Source – https://blog.studios2let.com/
Studio rooms in the UK are apartments located near the university campus. Staying in a studio room apartment in the UK is the foremost choice of most of the students. Studio rooms are generally 1BHK/2BHK student accommodation that offers unique rooms and better quality as compared to university-managed rooms. A studio room is a habitable space in which the living room, bedroom, and kitchenette are all consolidated into one space. Nowadays, these studio rooms are quite popular in the United Kingdom because of less crowd presence, providing maximum privacy for tenants.
4.En-suite Accommodation: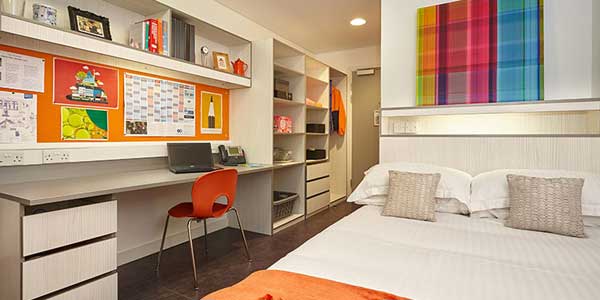 Image Source – https://www.hw.ac.uk/
En-suite accommodation is a type of student room where the bathroom is directly connected to your room which comes with a shower/bath. So, you can have your bathroom, washbasin, shower which offers more privacy. Comparatively, for En-suite accommodation in the UK, you will have to pay more. However, En-suite accommodation is one of the most popular choices of students in the UK. There are two types of en-suite rooms available: En-suite + rooms and En-suite+ Kitchen & living area. En-suite + rooms consisting of three-quarter beds are an ideal choice for students who want more personal space. While if you opt for a kitchen & living area you can avail yourself of the amenities like microwave, kettle, toaster, and a decent seating arrangement in the living area to socialize with your roommates.
5.Sharing Accommodation: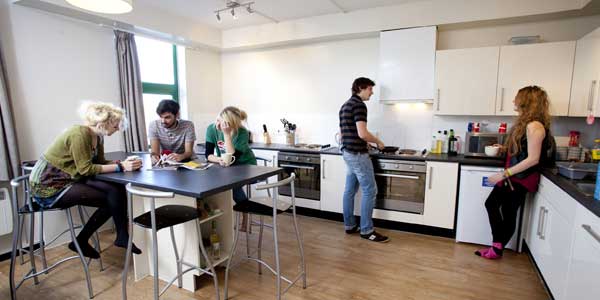 Image Source – https://www.landlordzone.co.uk/
Sharing accommodation in the UK is defined as two or more students sharing an apartment. Generally, each of them would have their personal space and they would have to share a kitchenette area, living room, and bathrooms. Shared houses are a good option for those who have partners or those who are willing to share the space with other renters. This option is also cost-effective as you will have to just pay for your bedroom in a shared house/flat.
6.Private Accommodation: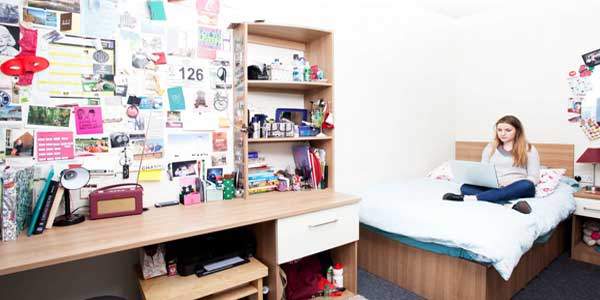 Image Source – https://www.studentworldonline.com/
Private accommodation for students in the UK is a common choice among students. These properties are managed by landlords as they come under the private rented sector. The quality of accommodation can widely differ, so it is advisable to rent a private accommodation from landlords accredited by your University. There's also an option of a private student hall in London which is perfect if you are looking for socializing with your circle. Private halls are similar to halls of residence but are managed by a private organization and can be an expensive option.
Cost of living in the UK for International students:
The cost of living in the UK for international students depends on University tuition fees, Accommodation type, area where you're staying, transportation, stationery, food, and your miscellaneous social expenditure. There are several Universities in the UK which can choose from depending on your field of interest and fees structure. So, you need to arrange your finances well before you arrive in the UK. While living in the UK apart from your academics, one must also focus on part-time jobs to fulfill your cost of living.
Requirements of renting off-campus properties:
To live as a student in the UK, there are some requirements that you need to fulfill for student accommodation in the UK. Some really good off-campus property options in the UK that prove to be cost-effective as well as fulfill your personal needs.
1.Fees:
If you're looking to book an off-campus accommodation for a student in the UK, then the fees for accommodation starts from an average of £4,915 annually (based on a 39-week contract). Most of the rental charges include bills of some kind, while 1/3rd of students still have to pay bills on top of rent. On the completion of the basic three-year undergraduate program, the total fees of accommodation come to an estimate of £14,742.
2.Deposits:
While booking an off-campus student accommodation in the UK majorly two types of deposit bills are to be taken care of: Tenancy deposit and Holding deposit.
3.Tenancy deposit:
Tenancy deposit is the tenant's payment to the landlord as part of the rental agreement. This agreement ensures that you will follow all the tenancy laws. As a part of this agreement, the tenant will be held responsible for any damages caused to the property.
4.Holding deposit:
This is a first-month rental deposit that marks the beginning of your stay in the property. All the landlords take this holding deposit along with signature on the agreement and refundable token of £100-500.
5.UK Guarantor:
While studying in the UK, there's a UK Guarantor service which the country offers. A UK guarantor is a person who takes up responsibility on behalf of the tenant when he is not able to pay rent on time. His job is to make sure that the tenant follows all the rules without any delay. This service is quite helpful for students on the days when they need a helping hand on their side.
For more details on off-campus student accommodation in the UK please get in touch with the Flamingo Educare team or visit our website or Contact Us at  Flamingo Educare.