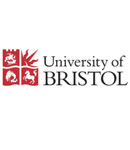 University of Bristol
Bristol, England Established in : 1876 Approx Fees : GBP 20,100 - GBP 38,000
Total No. Of Students : 27,973
Bristol, England Established in : 1876 Approx Fees : GBP 20,100 - GBP 38,000 Total No. Of Students : 27,973
Highlights
Bristol students like nothing more than to pretend they're not posh. They try so hard to be a little bit quirky, a little bit 'alternative' and very very cool. This isn't reflected in their alumni, however, who are all quirky and not that cool.
The University is also provide scholarships.
Bristol consistently ranks in the world's top 100 and UK's top ten universities in league tables that draw on information about both research and teaching excellence.
Being the first higher education institution in England to admit women on an equal basis to men, the institute is one of the highhly ranked institutes in UK.
The university is highly ranked by several bodies for its equality in education service delivery and, quality in the standard of education which is reflected in the fact that the university attracts an average of eight top-quality applicants for every place during application.
Ranking
ARWU

#64

THE (Times Higher Education)

#91

The Guardian

#11

QS

#58

The Complete University Guide

#14

US News & World Report

#86
About University
Established in 1876 , the college of Brisol consolidates educational excellence with a free and forward thinking spirit . Bristol college is the University of Red block concentrates in Bristol , England. It got it Royal charter in 1909. Bristol is the main UK college to declare an Climate  crisis. Bristol is a  member  of the UK science escalated colleges Russell group and is one of the top fine UK research establishments. At Bristol , students learn from work together with scholastics who are experts in their fields.
The world – class academic environment draws about a fourth of students  from outside the UK and in excess of 150 nations represented in various cultures. The University facilitates both an undergraduate degree program and a postgraduate degree program. It comprises a variety of subject,  including the faculty of Arts , Engineering ,  life sciences,  health sciences , science and low, which are divided into six faculties. As per a report published in 2019 , there are 20311 undergraduate  and 7202 post alumni and research students .
For undergraduate students the 8th highest admission requirement is at Bristol University. In addition , in the UK, Bristol is among the four universities in all six departments that have been ranked Jonathan evans (former head of MI5) , Paul Dirac (Nobel Prize winner in Physics),Sim  On Pegg (Actor and author), David Williams (comedian), Alastair Stewart (TV Journalist) Misha glenny (journalist and author of McMafia ), Derren Brown(illusionst), will hutton (Economist and author) and mike Bennett (digital media entrepreneur) have an impressive list of alumni ar the University of Bristol.
Do you have questions regarding University of Bristol ?
Department & Schools
Arts
School of Arts
School of Humanities
School of Modern Languages
Centre for Academic Language and Development
Centre for Innovation and Entrepreneurship
Engineering
School of Computer Science, Electrical and Electronic Engineering, and Engineering Mathematics
School of Civil, Aerospace and Mechanical Engineering
Health Science
Bristol Dental School
Bristol Medical School
Bristol Veterinary School
School of Anatomy
Teaching and Learning for Health Professionals
Life Sciences
School of Biological Sciences
School of Biochemistry
School of Cellular and Molecular Medicine
School of Physiology, Pharmacology and Neuroscience
School of Psychological Science
Science
School of Chemistry
School of Earth Sciences
School of Geographical Sciences
School of Mathematics
School of Physics
Social Sciences and Law
School of Accounting and Finance
School of Economics
School of Education
School of Management
School for Policy Studies
School of Sociology, Politics and International Studies
University of Bristol Law School
Do you have questions regarding University of Bristol ?