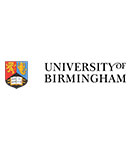 University of Birmingham
Birmingham, Westmidland,UK Established in : 1825 Approx Fees : GBP 14,550 - GBP 16,000
Total No. Of Students : 35,445 International Students : 7,875
Birmingham, Westmidland,UK Established in : 1825 Approx Fees : GBP 14,550 - GBP 16,000 Total No. Of Students : 35,445 International Students : 7,875
Highlights
Encourage bold, independent thinking and offer the highest quality academic experience to stretch and challenge you.
Leading with 350 UG courses , 600 PG taught Courses and 140 Research Courses it support freedom of speech and academic freedom , and to protect the welfare of staff , visitors and students also.
Have students who would excel at Oxbridge mixed in with students who are not as academically gifted. As such, you meet a wider range of people from all walks of life, which is what university should be all about.
The University of Birmingham is located in the heart of England with campuses in the Edgbaston and Selly Oak areas of the city of Birmingham.
Ranking
ARWU

#101-150

QS

#87

THE (The TImes Higher Education)

#107

The Guardian

#21

US News and World Report

#92

The Complete University Guide

#13
About University
The University of Birmingham was set up by Queen Victoria by Royal Charter in 1900 and was the UK's first municipal or redbrick college.The University of Birmingham is a public exploration college located in Edgbaston, Birmingham, United Kingdom. It is belonging to the Russell group which provides an significant level of educating. The college was an establishing member from the National Union of Students, and the first in the nation to be based on a ground model, includes a medical school and offer degrees in dentistry.
It has 5 educational universities which further incorporates around 100 divisions. It gives various degree programs like undergraduate degree program,master degree program, professional degree program and post-graduate research degree programme. Academic departments like Art & law , Engineering and Physical Sciences, Life and Environmental Sciences, Medical and Dental Sciences , Social Sciences. . It is home to more than 23,000 undergraduate students and 14,000 post-graduate students including 7875 international students.
It is home of the well known organizations like Barber Institute of Fine Arts which incorporates works of art by Van Gogh and Monet, Cadbury Research Library and Shakespeare Institute. Being the most well known UK colleges, it has been associated with numerous discoveries made by the specialists of the college, including gaseous diffusion and cavity magnetron. It has additionally made an amazing contribution to cancer studies and researches. Faculty and alumni have been granted Nobel prize.
The college has a remarkable list of alumni that includes Mohamed Yusuf Haji (Defence Minister, Kenya), Perry Christie (Prime Minister, Bahamas), David Aubrey Scott (British High Commissioner, New Zealand) and Bala Garba Jahumpa (Foreign Minister, Gambia)
Do you have questions regarding University of Birmingham ?
Top Ranking Faculties
Science
Engineering
Commerce
Coal Mining
Teaching & Research
Department & Schools
College of Arts and Law
Birmingham Law School
English, Drama and Creative Studies
History and Cultures
Language, Cultures, Art History and Music
Philosophy, Theology and Religion
College of Medical and Dental Sciences
Applied Health Research
Biomedical Science
Birmingham Medical School
Cancer and Genomic Sciences
Cardiovascular Sciences
Clinical Sciences
Dentistry
Graduate School
Immunology and Immunotherapy
Inflammation and Ageing
Metabolism and Systems Research
Microbiology and Infection
Nursing
Pharmacy
College of Life and Environmental Sciences
Biosciences
Geography, Earth and Environmental Sciences
Psychology
Sport, Exercise and Rehabilitation Sciences
College of Engineering and Physical Sciences
Chemical Engineering
Chemistry
Computer Science
Engineering
Mathematics
Metallurgy and Materials
Physics and Astronomy
College of Social Sciences
Birmingham Business School
Education
Government
Social Policy
Do you have questions regarding University of Birmingham ?