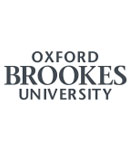 Oxford Brookes University
Oxford, England Established in : 1865 Approx Fees : GBP 13,410 - GBP 15,100
Total No. Of Students : 16,665 International Students : 3,000
Oxford, England Established in : 1865 Approx Fees : GBP 13,410 - GBP 15,100 Total No. Of Students : 16,665 International Students : 3,000
Highlights
Ranked 2nd in the UK for teaching in the THE Young University Rankings 2020
Principle will sit alongside our established principles of Confidence, Enterprising Creativity, Connectedness and Generosity of Spirit.
It accept a wide range of qualification , ranging from A level results to HNDs and in some cases , prior work experience
Oxford Brookes University has designed a learning system that enables students to learn beyond classrooms. Students are sent to industrial workshops for hands-on training and for the purpose of making them aware of the real-world work environments.
Oxford Brookes University is a globally renowned centre for Research Excellence. The university has established specialised research strengths for world-leading research. It has partnered with Government agencies and the industry for technology transfer and research initiatives. Further, the university receives research grants from the UK Government and the European Commission. Oxford Brookes is a university of global outreach. Students across the world come to study at the university to pursue their dream careers.
Ranking
World University Ranking

#383

University Ranking (UK)

#48
About University
In the United Kingdom, Oxford Brookes University is an open university. The university provides the best-in-class learning experience to students with its award-winning educators and global facilities. The university's beginnings as the Oxford School of Art date back to 1865. In its faculty group, the university includes qualified and highly trained university professors. The university proudly boasts 11 National Teaching Fellows from its faculty. The university comprises experienced and highly-qualified academicians in its faculty pool.
The school proudly boasts 11 National Teaching Fellows in its faculty members. In addition, renowned academics and business specialists also come to the university to exchange useful inputs. The university is based in the wonderful town of Oxford and is a global hub for the brightest minds. There are three major campuses across Oxford City, including Harcourt Hill, Headington, Wheatley, and a fourth in Swindon.The university's motto is to learn by doing and it has developed a learning system that encourages students to learn outside classrooms.
The university has four faculties that are split into separate schools and departments. students are being sent to industrial workshops for hands on experience and in order to increase awareness of the real world conditions. The university operates a department of placement opportunities for facilitating student recruiting process. It has partnered on placements with the world's leading firms, including Microsoft, IBM, BMW, KPMG and Virgin Atlantic. To execute student exchange and study abroad programs, the university has partnered with more than 100 prestigious universities around the world.
Oxford Brookes also develops international research collaborations with educational institutions from Germany, France, India, China, Malaysia, Singapore, Kenya and Hong Kong, among other countries.
Do you have questions regarding Oxford Brookes University ?
Top Ranking Faculties
Accounting & Finance
Architecture & Built Environment
Biological Sciences
Business & Management
Education
Computer Science & Information System
Department & Schools
Oxford Brookes Business School
Business School
Oxford School of Hospitality Management
Faculty of Health and Life Sciences
Department of Biological and Medical Sciences
Department of Midwifery, Community and Public Health
Department of Nursing
Department of Psychology, Health and Professional Development
Department of Sport, Health Sciences and Social Work (including the Functional Food Centre)
Faculty of Humanities and Social Sciences
School of Education
School of English and Modern Languages
School of History, Philosophy and Culture
Oxford Centre for Methodism and Church History
School of Law
Institute of Public Care
Department of Social Sciences (including Primate Conservation)
Faculty of Technology, Design and Environment
School of Architecture
School of Arts
School of the Built Environment
Department of Computing and Communication Technologies
Department of Mechanical Engineering and Mathematical Sciences
Do you have questions regarding Oxford Brookes University ?