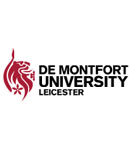 De Montfort University
Leicester,England Established in : 1870 Approx Fees : GBP 12000 - GBP 14250
Total No. Of Students : 25,810 International Students : 2,700
Leicester,England Established in : 1870 Approx Fees : GBP 12000 - GBP 14250 Total No. Of Students : 25,810 International Students : 2,700
Highlights
De Montfort University provides on-campus accommodation to its students and aims to provide accommodation to all new UK and international undergraduate students who request it
The Campus Centre offers numerous facilities for students. The building was completed in September 2003, fulfilling a number of functions and providing a wide range of services
The four Library sites on campus consist of the main Kimberlin Library and three ancillaries. Many Library functions are also available off campus at any time, including electronic resources such as academic databases, and online account management facilities such as book renewal.
Popularly known as DMU, the University is structured into four faculties that offer more than 400 programmes to 22,000 students. DMU is committed to providing career-relevant skills through its strong links with leading national and international employers such as the BBC, Caterpillar, Deloitte, HP and the NHS.
Ranking
World University Ranking

#801-1000

University Ranking (UK)

#81
About University
De Montfort University (DMU), which was created in 1870 by the Leicester School of Art, was officially confirmed  in 1992 and was identified after Simon de Montfort, Earl of Leicester, who joined the first parliament in 1265 . The University of De Montfort is based in Leicester and was listed by the influential Times Higher Education magazine as among the world's 150 best young universities, and rated as No.1 for career development, and in the top three for teaching excellence of UK universities, in an earlier study on teaching quality by Times Higher Education magazine.
The University of De Montfort has also internationally recognized academic institutions such as the Centre for Computing and Social Responsibility, the Centre for Research on Reproduction, the Centre for Urban Research and Austerity, the Center for Research on Film and Television Culture, and the Institute of Cyber Technology. DMU has a huge campus with modern facilities in Leicester. Leicester, a lively and historical town, is a lovely place to visit. In addition, it is equally close to Manchester and London, making it the most famous destinations for international students wanting to study in the UK.
For all types of courses, such as the Faculty of Architecture, Design and Humanities, the Faculty of Business and Law, the Faculty of Health and Life Sciences and the Faculty of Computing, Engineering, and Media, this university has professional faculties. It provides multiple undergraduate courses in the fields of business, law, art, architecture, humanities, media, engineering, energy, computing, technology, and social sciences, and more than 70 masters degree programs.
A strong focus is imposed by the university on employment abilities. Education programs support all of its classes, and training is consistent with existing business standards. Many students take a job placement with a number of organizations, including the BBC, the NHS, HP and Deloitte, because of their comprehensive connections with business. Every year, over 2,700 foreign students from over 130 countries come to the university to study. The university provide the perfect combination of award-winning education, international facilities and a great school environment.
Do you have questions regarding De Montfort University ?
Top Ranking Faculties
Art
Design & Huminities
Business & Law
Health & Life Sicences
Computing, Engineering & Media
Department & Schools
Faculty of Arts, Design and Humanities
Institute of Architecture: Sustainable Cities and Communities
Institute of Art & Design : Creativity for a Sustainable Future
Institute of Dance, Drama and Performance Studies: Embodiment, Inclusivity, Diversity
Institute of English: Reading the World-Developing the Mind
Institute of History: Histories, Cultures and Societies
Faculty of Business and Law
Centre for Enterprise and Innovation
Centre For Urban Research & Austerity
Finance & Banking Research
Institute of Applied Economics & Social Values
Institute Of Law,Justice & Society
Local Governance Research & Centre
People, Organisations & Work Institute
Centre for Research in Accountability, Governance and Sustainability
Faculty of Computing, Engineering and Media
Centre for Computing and Social Responsibility
Cinema and Television History Research Institute
Cyber Technology Institute
Institute of Artificial Intelligence
Institute of Creative Technologies
Institute of Energy & Sustainable Development
Institute of Engineering Sciences
Media , Communication & Research Centre
Media, Dicourse Centre
Music, Technology and Innovation – Institute for Sonic Creativity
Faculty of Health and Life Sciences
Centre for Reproduction Research
Institute of Health, Health Policy and Social Care Research
Institute for Psychological Sciences
Institute for Research in Criminology, Community, Education and Social Justice
Institute of Allied Health Sciences Research
Leicester Institute for Pharmaceutical Innovation – from molecules to practice
Mary Seacole Research Centre
Other
Stephen Lawrence Research Centre
Do you have questions regarding De Montfort University ?