Canada V/S United Kingdom: Which Country is more suitable for Studying abroad?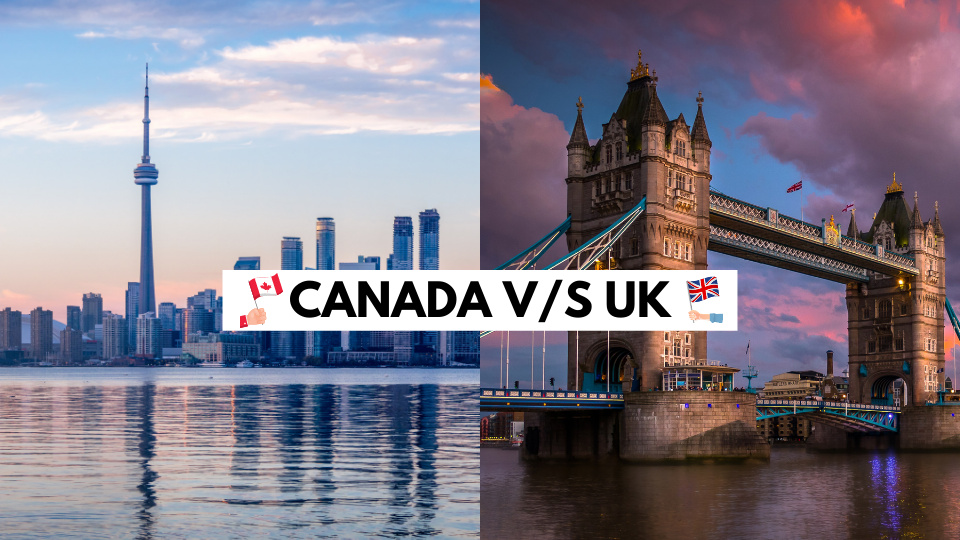 UK and Canada have strong historical ties, as both are governed by Queen Elizabeth II. They do have some truly distinctive differences such as the massive disparity in size, cultures, and lifestyle. Both UK and Canada have numerous universities that rank among the best in the world. In the recent decade, studying abroad is the current trend among Indian students. To gain an international education experience is a dream of Gen Z.  This is such since International education exposure will open the door to a plethora of opportunities for their dream careers. Many countries are rated as the best country to study abroad, each provides not only the best academics but also offers outstanding research facilities and resources. The two prominent competitors in this segment are Canada vs. the United Kingdom. Although both these countries are a symbol of prominent and excellent education, there are several other factors to consider as well before zeroing down on the final selection. To help you in this dilemma, get in touch with Flamingo Educare, the best study abroad consultant in Ahmedabad.
Requirements / Eligibility
Eligibility for Study in Canada
If you are planning to study in Canada, for undergraduate courses, it's mandatory to complete 12 years of schooling along with the SAT exam. The duration of a diploma course is 2 to 3 years and that of a degree course is around 4 years. In regards to postgraduate courses, admission criteria are a bit relaxed; hence it becomes easier to get admission in the vocational courses. To get into a management degree program, you have to appear for the GMAT exam, and for the engineering degree, you should give GRE. Both these scores are important to seek admission in Canadian colleges. Aspiring students can get a fair idea of these scores as the colleges share the average scores required for each course on their websites. While applying for a study course in Canada, you will have to also appear for a language test to prove your language skills. Exams such as IELTS/TOEFL/PTE are not just essential to seek admission in different colleges but are very important for Canadian Visa purposes.
Eligibility for Study in UK
For undergraduate courses in the UK, a 10+2 CBSE certificate is required for admission. To apply for a postgraduate course to study in the UK University, you should complete 3 years undergraduate course. While applying for any management course, GMAT and GRE for any science courses are university entry requirements. Students with prior work experiences are preferred and are helping to secure a place in management courses in the UK, IELTS/TOEFL/UCLES is not mandatory, but the scores of these tests play a crucial role in getting a study permit for the UK.
Popular universities / colleges
Top Universities in Canada
Some of the top universities of Canada are the University of Toronto, the University of British Columbia, Mc Gill University, the University of Montreal, the University of Alberta, and others. Do consider any of these universities in Canada for your study abroad programs.
Top Universities in UK
The United Kingdom has many world-renowned universities and government-guaranteed quality; it offers academic excellence wherever and whatever you choose as study-abroad programs. Some of the top universities in the UK are the University of Oxford, University of Cambridge. Imperial College of London, University of Edinburgh, King's College London, University of Manchester, University of Bristol, etc.
Visa details
Visa for Canada
To get a student visa for Canada, first and foremost you have to finalize the study program and the institution, after being accepted by a university, you will receive an acceptance letter that is a very important document required to apply for a student visa or study permit. You will also have to provide a medical record displaying good health; Student visa eligibility would also need documents showing sufficient funds, proof that confirmed nil criminal records, a valid passport, and proficiency in the English language. You can also apply for a study permit using the Student Direct Stream, visa fees are around CAD 150. More details on this could be achieved by taking expert guidance from the Flamingo Educare team.
Visa for UK
The first step to avail the Visa for the UK is to decide on the study course and the institution, as you will need an acceptance letter from the university while applying for the visa. Tier 4 student visa is a full-time student visa. Over the last few years, the norms for the UK have been more stringent and changed; the best option would be to seek advice from the Flamingo Educare team to know the latest requirements. UK student visa eligibility entails that student should be above 16 years of age, should be able to read, speak, write and understand English. He or she should have sufficient funds to support during their study course. An acceptance letter from the university, do ensure that the university or institution is a licensed one. The other important conditions are that course applied should be a full-time study program; the length of the visa is for 3 years for a diploma course and 4 years for a degree course. You may have to go for a personal interview. The visa application fee is around 350 GBP and an immigration health surcharge is around 150 GBP per year.
Cost of living
Cost of Living in Canada
The cost of living in Canada for foreign students is comparatively cheaper than in the United Kingdom. The cost of living in Canada for a student does not just depend on the university, though tuition fees vary a lot across universities and colleges in Canada, their location will also affect the cost of living. It also depends and varies based on the accommodation option selected, food preferences, transportation, entertainment, and healthcare. One of the benefits of living in Canada is that most of the universities are government-funded. On average, the cost of living in Canada for a student would be approx 7500 to 12000 CAD per year.
Cost of Living in UK
Do note that while applying for Tier-4 Visa, students need to prove that they can afford around 1 lakh INR per month or around 1265 GBP per year. Apart from your course tuition fees, the cost of living in the UK is based on the accommodation option, location or the city of the university, food, transportation, connectivity, entertainment, and any kind of emergencies. The cost of living is comparatively higher in London and South East England than in the rest of England, Northern Ireland, Wales, and Scotland. On average, the cost of living in the UK for a student would be around 15000 to 20000 GBP per year.
Climate
Climate of Canada
The topography of Canada stretches from the Pacific Ocean to the Atlantic Ocean, it covers 5 time zones. Hence the climate of Canada varies across the country. Winters are milder in Toronto compared to other cities, but still, you will find the weather as cold and snowy.  The climate on the west coast of Canada, around Vancouver, is mostly temperate and rainy. The temperature in summer is around 22 degrees Celsius and during winters it is around 7 degrees Celsius.  Due to the climate in Canada, the temperature varies widely on any given day from one part of Canada to other.
Climate of UK
The climate of UK is quite variable. It is a little difficult to predict the weather. Generally, the summers are warmer, though cooler than the summers in India. There is snowfall during winters. Rains in the UK are quite unpredictable, as it may rain any time of the year. The average UK temperature during the summer months is around 25°C to 15°C and during winters months it is around 7°C to 0°C.
Post-study work permit
Post-study work permit in Canada
The post-graduate work Permit in Canada is known as the Canadian Post Graduation Work Visa. Students who have completed their graduation are allowed to work in Canada for a period equivalent to their study course or a max of around 3 years. This work permit in Canada is given based on the duration of your course and the stream which you would have studied. Only those students who have studied from a DLIs or a Designated Learning Institution are eligible for a work permit. Once they finish their studies, they can apply for Post Graduate Work Permit with 180 days. Having a work permit enables the student with the required work experience in Canada and also a step further to obtain a PR in Canada.
Post-study work permit in UK
The post-graduate work permit or the post-study work visa in the UK allows students to stay back in the country to search and work for around 2 years after the completion of their graduation. The new visa rules have come into effect from September 2020, under this new rule, a graduate student should apply for a Graduate Route or a Work Permit in the UK before the student visa expires. This is valid for any student having a Tier-4 visa and is registered with an authorized institute. In the first year after graduation, Post-study work visa holders are allowed to work in any job till they find work to achieve a general work visa.
PR opportunities
PR in Canada
Getting a PR in Canada is the main aim of most foreign students studying in Canada. Once the students complete their degree, they are encouraged to opt for employment in Canada. The Canada PR requirements are that as soon as the student completes his graduation he or she can go for the Post-graduation work permit program. Under this program, they can work for a period equivalent to their study course. Many immigration programs encourage students to work and gradually opt for a PR in Canada. One such program is the Canadian Experience Class (Express Entry) program that supports foreign students who have graduated from Canadian Universities to opt for a PR in the country.
PR in UK
Getting a PR in UK is comparatively more tedious than getting a PR in Canada. The UK PR requirements are good moral conduct having a nil criminal record and a stable income with a full-time job. To create a strong CV and to boost the employment prospects, it is suggested that the student should work while learning through internships. Once they finish their studies opt for a full-time job, after completing 5 years of a full-time job, he or she can then apply for ILR: indefinite leave to remain Visa that is the PR visa. Along with 5 years of a full-time job, a student also should pass a recognized English Language test and the Knowledge of Life in the UK test.
Employment opportunities
Employment opportunities in Canada
The employment opportunities in Canada for students in their fields ensure that the students give their best and do a great job. With the help of a post-study work visa, students can easily get jobs in Canada and begin their bright careers. Canada is a very huge country with ample job opportunities. Different regions of the country have numerous and different types of job offers. The most in-demand jobs in Canada are in the Healthcare sector, followed by Scientific, professional and technical services, STEM jobs (Science Technology Engineering Math), conservation officers, telecommunications manager, and many others. With the right focus and the right resume, students will find many employment opportunities in Canada.
Employment opportunities in UK
The employment opportunities in the UK are quite competitive in comparison to the global standards. With numerous employment opportunities, diverse job sectors, and good working conditions, UK is a popular destination among international students to begin their careers. With the help of the UK's immigration program, a student can change from a student visa to a working visa permit based on the various requirements of the law. Though the competition is quite fierce, students with the right skills, qualifications, and experience do have a good chance to avail job in the UK. Major industries with employment options for international students are Healthcare, Oil and Energy, Law, Retail, Investment Banking,      and many others. To know more about this segment, connect with an expert from Flamingo Educare.
Why choose the country?
Why choose Canada to study?
While thinking of study-abroad programs, students may tend to think Why choose Canada to study? International students generally prefer to study in Canada as it offers quality education with affordable tuition fees, excellent quality of life, good post-study work, and immigration options. The benefits of studying in Canada are numerous such as the country is safe, enriching cultural experience, lively and vibrant campus, quite affordable, immense research opportunities, and not to forget the beautiful and amazing landscapes and natural beauty of Canada.
Why choose UK to study?
When planning to study abroad, when the USA is the most sought-after destination, one would be curious to know, why choose the UK to study?  Studying in the UK is a dream for many students. Some of the benefits for studying in the UK are excellent quality of education, many Internationally Recognised Universities, numerous opportunities offered by the UK Education System, degrees and qualifications gained from the UK are recognized around the world, strong research infrastructure, free medical treatment under the NHS scheme when a student is enrolled in a full-time course, and lastly a getaway to Europe, wherein you will get to explore most parts of Europe.
As you would have noticed, each country has its benefits: the immigration process of Canada is simple, easier to obtain a PR and citizenship in Canada, whereas immigration rules in the UK are quite stringent, but it has the world's best universities, and a great country to study and live. One needs to weigh all the pros and cons while deciding on the country to study abroad. To help and guide you in this process, get in touch with the Flamingo Educare team who has immense experience in handling visa applications, will help you to narrow down the selection of a country, university, and all the other details that are essential for your career goals.