IELTS – The First Step of Foreign Education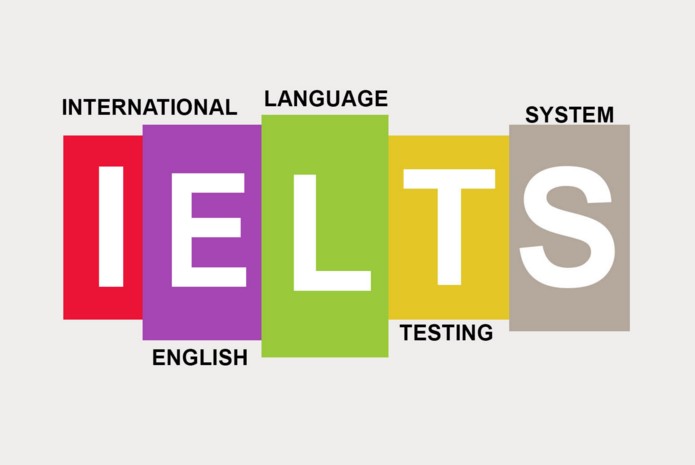 Introduction

Image Source:https://www.ieltsasia.org/
Foreign Education is almost synonymous with IELTS. One would have come across this term infinite times whenever researching about studying abroad. Though at first glance, not all may know what does IELTS stands for? It stands for International English Language Testing System. It is a certification test. This certificate serves as evidence of your proficiency in the English language. The Cambridge English Language Assessment, the British Council, and IDP Education Australia jointly operate and own IELTS. IELTS was a pioneer of English-language testing more than 30 years ago.
It is a globally recognized English proficiency test to work, immigrate, or study abroad in any foreign country. It is mandatory whether you wish to enroll to study at any university or you wish to avail of a visa to work for any government agencies or business organizations. Australia, the United Kingdom, New Zealand, the USA, and Canada are some IELTS-accepted countries. Apart from IELTS, other tests that are recognized are TOEFL, PTE, OPI, etc. IELTS exam score is acknowledged by more than ten thousand training and education providers across the globe.  Hence each aspiring student who is dreaming of foreign education has to be completely aware of IELTS. Seek the best guidance and information about it from the experts – Flamingo Educare – the best IELTS coaching in Ahmedabad.
About IELTS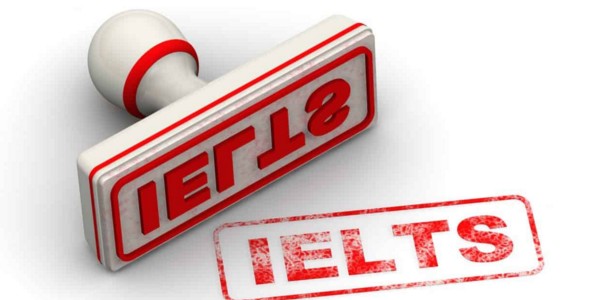 Image Source:https://didmdw8v48h5q.cloudfront.net/
While preparing for the IELTS, it is imperative to have all the information about IELTS. It is regarded as one of the best factors in terms of English language proficiency around the world. It is essential to communicate in the native language of the nation where you desire to study at a foreign university. IELTS has been developed to offer an accurate and fair assessment of the language. International language experts create the test questions. It has four sections like reading, listening, speaking, and writing. The test's content is based on real-life scenarios. It is fair and unbiased for all test takers ranging from different backgrounds. It covers the entire range of abilities from non-user to expert user. Understand in detail about IELTS, IELTS training, IETLS exam fees, etc., from the best study abroad consultant in Ahmedabad – Flamingo Educare.
Types of IELTS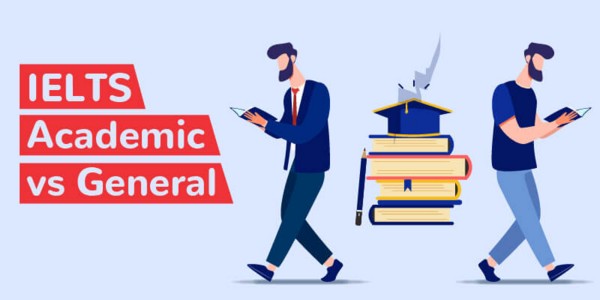 Image Source: https://studentportal-assets.s3.ap-south-1.amazonaws.com/
For non-native English speakers who are pursuing to study abroad, IELTS is the best resource. It assesses the test takers on their linguistic skills. The focus of these tests is on human conversations. It analyzes and evaluates the test-takers reading, listening, speaking, and writing skills. There are two main types of IELTS as below:
Academic IELTS
General IELTS
Both types are similar, but the distinction between General IELTS and Academic IELTS is the purpose of each task, context, and content. The other details like the length of written responses, timing allocation, and score reporting are the same. To know all the nitty-gritty's of the test you are opting be and be well-prepared for it, opt for the IELTS coaching in Ahmedabad at Flamingo Educare.
1.IELTS Academic
IELTS Academic is for test takers who wish to pursue their further studies in an English-speaking country. This test is determined for those who wish to avail of admission to universities across the world. It assesses the language proficiency at an academic level to identify whether the student can study at a UG or PG level.
2.IELTS General Training
IELTS General Training is designed for test-takers who want to train, work, migrate or study at a lower level than a bachelor's degree. It is designed specifically for those seeking non-academic training for work experience or immigration purposes. IELTS General measures the candidate's proficiency in a daily practical context.
IELTS Modules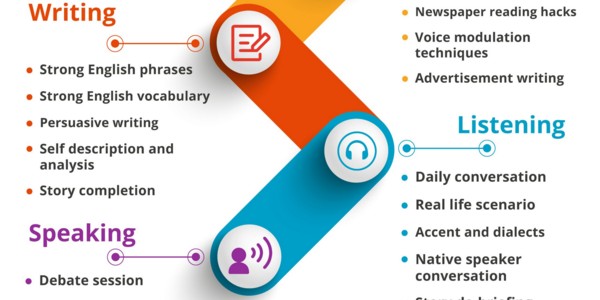 Image Source:https://www.english-pro.in/
These tests are divided further as IELTS modules. The four IELTS modules are:
IELTS Listening Module
IELTS Speaking Module
IELTS Reading Module
IELTS Writing Module
1.IELTS Listening Module
The IELTS listening module test is similar for both the IELTS General listening test and the IELTS Academic listening test. The examinee will have to hear four recordings, based on them answer around 40 questions. These questions are of various types, such as short-answer questions, multiple-choice questions, complete the sentence, classification, matching, and creating a summary, diagram, table, or chart. The four recordings of the IELTS listening module test have a mix of conversations and monologues of native speakers. The first recording is a dialogue between two persons taking place in an everyday or social setting. The second one is a monologue. The third recording is usually a three-to-four-person talk about training, education, or a student addressing his or her homework. The fourth one is generally a monologue based on any academic subject. The duration of this module is around 30 minutes.
2.IELTS Speaking Module
The duration of the IELTS speaking module is around 11 to 14 minutes.  This test determines the examinee's usage of spoken English. The IELTS General Speaking and the IELTS Academic speaking tests are the same. The IELTS speaking module test begins with an interview between the examinee and a certified examiner. The examiner will ask generic questions related to family, work, home, etc. The following step would be to discuss a specific topic. The prep time for this would be one minute and the examinee will have to talk for around two minutes on the topic. The examiner will then assess by asking questions about the topic to take the discussion further.
3.IELTS Reading Module
The IELTS Reading module assesses the examinee using a range of skills through different sets of questions based on different topics. One of the important parameters in this test is to abide by time management while answering the questions. The IELTS reading module test consists of 40 questions that are designed to test reading skills. These include reading for detail, for main ideas, for gist, understanding logical argument, and recognizing the writer's attitude, opinion, and purpose. This test will last approximately 60 minutes. Most of the question types in both the IELTS Academic Reading and IELTS General Training Reading are similar; however, the text topics are different.
4.IELTS writing Module
IELTS writing module test is created to assess the examinee's writing skills and techniques. It consists of two distinct pieces of writing – Task 1 and Task 2. Both the tasks have to be completed in 60 minutes. Task 1 is different for IELTS Academic Writing and IELTS General Writing. Whereas, Task 2 is the same for both. In this IELTS writing module, for IELTS Academic task 1 is about a diagram or a graph, and in Task 2, the examinee has to write an essay. For IELTS General Training, Task 1 – to write a letter and Task 2 is to write an essay.
When Do You Get Your IELTS Results After the Exam?
Image Sourse:https://studyabroadlife.org/
If the examinee took a computer-based IELTS test, the online IELTS results would be available three to five days after the test. If the examinee took a paper-based test, they would receive their IELTS results thirteen days after the test. The band scores for the results range from Band 0 to Band 9. Each band denotes a distinct level of English proficiency. Each module will have a separate band score as well as an overall band score based on all four modules. The IELTS online results are available for 28 days, but they are not considered official. The TRF or Test Report Form number will appear on the print copy of the result. It can be collected from the test center or the candidate may receive it through the post.
Validity Period of IELTS Test Score
A small yet important point to remember is about the IELTS score validity. After giving the test and receiving the test scores, the IELTS validity period is for two years. Irrespective of whether the examinee has opted to take the IELTS exam on paper or online, organizations will not accept the results if they are older than two years.
Conclusion
Aside from the information provided above, students should be aware that the tests are readily available – approximately four times per month.  It is one of the most objective tests available, and it is the only one that involves face-to-face interaction. Reading all the above content would have given you a fair idea of everything about IELTS. But acknowledging the gravity and importance of IELTS, getting expert and experience advice from Flamingo Educare – IELTS coaching in Ahmedabad is inevitable.
Frequently Asked Questions Regarding IELTS
What is the IELTS exam for?
IELTS is the globally renowned English language test for study, work, and migration.
What is the cost of the IELTS exam?
The cost of an IELTS exam for both Paper-based IELTS and Computer-delivered IELTS is INR 14700.
Who is eligible for the IELTS exam?
To be eligible for the IELTS exam the candidate's age should be at least 16 years and above, have a valid passport, irrespective of gender, religion, or nationality.
Which month is best for the IELTS exam?
IELTS exams are conducted 48 days in a calendar year.  Candidates should check with the test centers whether they have the exam dates and slots available for their preferred date. Generally, the best month to take an IETLS exam is during April, August, and December.
How many times can I take the IELTS?
Candidates can opt for the IELTS exam as many times as they wish, however, it is recommended to study and prepare well before opting for the test again.